Description
Features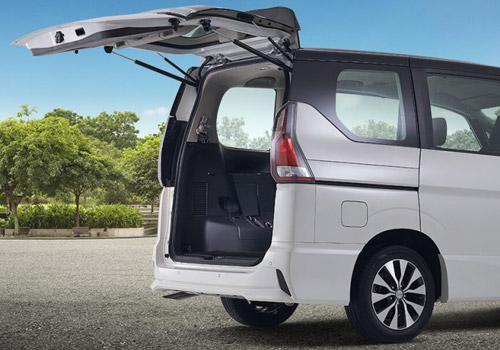 Design.
All New Nissan Serena
Refreshed Aerodynamic Design. An exclusively designed All New Nissan Serena Highway Star body kit, which includes a new integrated front bumper and chromed decoration enhanced the sporty and attractive look of the All New Nissan Serena Highway Star. The redesigned racy side skirts and rear bumper link up with the wheel arches lining intensified the look of lower ground clearance.
360 Panoramic View. The largest glass front window and the triangle windows are designed to reduce blind spots, giving a 360 panoramic view. They also provide better visibility for the driver and the lower waistline enhances side visibility, which helps the driver see pedestrians more easily.
---
Style.
All New Nissan Serena
One-Touch Auto Slide Door. It provides the highest level of convenience, flexibility and comfort. Convenience is enhanced through use of a wider slide door opening, which makes getting in and out of the vehicle while holding a child, and putting on or down child safety seats, easier. When both hands are full of baggage, the One-Touch Auto Slide Door automatically opens/closes with a single touch of a button on the door.
Advanced Fog Lamps. Designed to cut through even the heaviest mist and fog.
Giant Panoramic Roof. Allows the family to enjoy sunlight at anytime.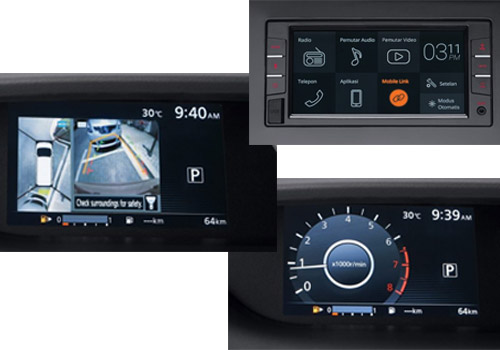 ---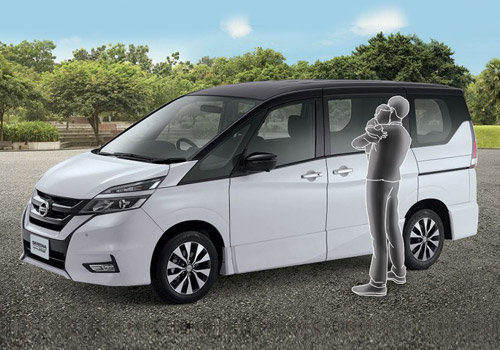 Safety.
All New Nissan Serena
SRS Airbags. To protect the driver and front-seat passenger in the event of a collision, front airbags have been installed for the front seats.
Vehicle Dynamic Control (VDC). System activates engine and brake control when necessary to help stabilize the vehicle on slippery roads and during emergency maneuvers.
Anti-lock Braking System (ABS). Helps prevent wheel locking or skidding during sudden braking or braking on slippery surfaces.
Brake Assist (BA). System applies additional stopping power by activating ABS in hard or panic braking situation.
Electronic Brake-force Distribution (EBD) System controls the braking force on the front and rear wheels. Braking distance of the vehicle when fully loaded is significantly reduced.
---
Engine Performance.
All New Nissan Serena
MR20 Engine. The newly developed direct-injection MR20 engine offers both excellent fuel efficiency and high torque, which are realized, in part, through improved thermal efficiency by directly injecting the fuel into the cylinder. Since the engine achieves high low-to-middle speed torque, less accelerator pressure is needed, reducing excessive fuel consumption.
Xtronic CVT. The Xtronic CVT, tuned specifically for use with the newly developed direct-injection MR20 engine improved thermal efficiency by directly injecting the fuel into cylinder, which helps provide superb fuel efficiency, smooth response and enhanced dynamic performance.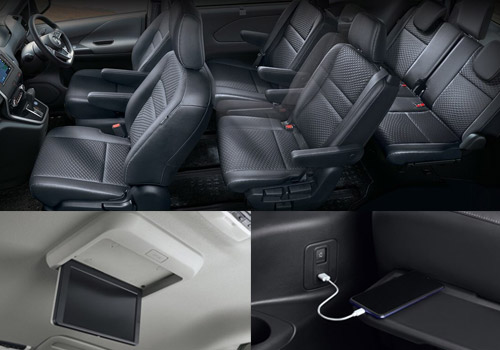 ---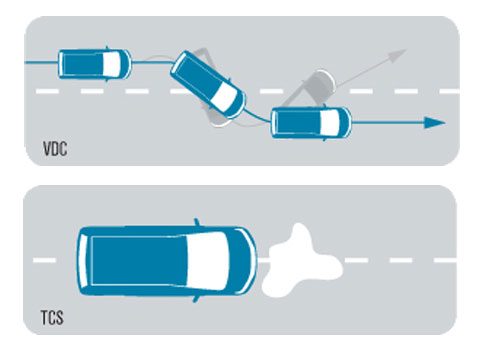 Handling.
All New Nissan Serena
Vehicle Dynamic Control (VDC) & Traction Control System(TCS). When it detects an oversteer or understeer, VDC reduces engine power and applies brake pressure to specific wheels. Working with VDC, TCS can sense front-wheel spin and reduce throttle to keep the driver on the steered path.
Cruise Control. Maintain steady speed on the road with the Cruise Control System.
---
Comfort.
All New Nissan Serena
Spacious. The All New Nissan Serena has a compartment with length of 3060mm and height of 1380mm. Kids can freely walk inside without minding their heads.
Smart multi centre seat. Can serve as a table or an armrest.
Big Cargo Space. Readily accommodates large leisure equipment or heavy luggage.
A Large-Capacity Under-Floor Compartment. Is capable of holding a baby stroller or a 9-inch golf bag horizontally, even when the 3rd row seats are in use.